SDN and NFV could be the next game changer in India telecom sector: SDN & NFV India Congress 2017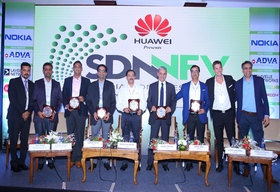 In the present day context, the occurrence of these two technologies are primarily driven by the requirements for robust data management systems and access to bandwidth by servers located at different sites and connected over long distances through public and private clouds. Additionally, though SDN and NFV are highly promoted as next-generation technology solutions, there are still many challenges in successfully deploying them.
With the support of organizations like Huawei, Ericsson, Juniper Networks, IBM, Nokia, ADVA Optical Networking, Lavelle Networks, UT Starcom, and COAI, more than 200 senior telecom professionals gathered at 'SDN & NFV India Congress 2017' in Mumbai to discuss about the prospects and challenges of these technologies from Indian telecommunications industry perspective.
Held for the first time in India, 'SDN & NFV India Congress 2017' created the principal market focus for network innovation, and which led to largest meeting place for carrier Network Transformation industry leaders in the country. Key relevant industry topics like SDN &NFV in India- understanding the opportunity, defining the business case for network virtualization, and the evolving role of SDN & NFV on 5G Networks were discussed and deliberated in the congress.
Jaswant Boyat, IP Solutions Sales Director, Huawei said, "SDN& NFV are the key drivers for the next phase of network evolution towards a 5G era where connectivity will beyond the immediate boundaries of SP's and hence they need to be ready to transform accordingly in a timely manner. SDN and NFV will bring efficiency agility and new revenue streams to the world of telecom."

While Srishty Raj Koul, Cloud Core Network Solution Director stressed on the need for NFV based on VM's and containers seamlessly transforming SP core networks towards the 5G Service oriented core.

Network X-formation based on DC-Centric approach to support futuristic services for 5G, which demand ultra-high throughput, Low latency & massive IOT connection.

Huawei also added that Huawei is already working across the globe with large operators in matured markets like China, Europe and South America in the area of SDN & NFV. Huawei is also already talking to leading operators in India for SDN & NFV based networks.

Speaking on the occasion Pankaj Kitchlu, CTO- Service Provider Systems Engineering, India-SAARC, Juniper Networks said, "SDN & NFV is a punctuated jump and forums like this are critical for the whole industry to learn, to execute and then finally achieve the excellence which SDN & NFV promises. SDN & NFV is the bridge which is going to take us into the new telecom era and provide a whole new dimension on how customer uses data. Real time is the biggest building block which SDN & NFV is going to co-create with all the telcos and deliver a new consumer experience."

Speaking on the occasion Ludvig Landgren, VP & Head Network Applications & Cloud Infrastructure, Ericsson said, "India has very large 2G and 3G networks that we need to take care of at the same time alongside 4G and 5G networks which NFV represent. The advantage here is that the same software and same infrastruce is used for 4G and 5G networks is actually the same one we actually used for 2G and 3G networks. What we provide to Indian market is really a lot of experience that we have had throughout the world. We have gone very early into SDN and NFV."

Vishal Awal, Vice President and Lead Partner, IBM Global Business Services; Comms Leader India/South Asia said, 'SDN & NFV is going to really impact the market both from operator's perspective and consumers' perspective. The need of the hour is automation driven by cognitive or artificial intelligence. We gave deep telco industry experience, and have already made strategic investments in cognitive and cloud domain. We have the expertise and track record in successfully executing some complex migrations to the cloud.'

Speaking on the occasion Anjani Kumar Singh, CEO, Nexgen Conferences said, 'The first edition SDN & NFV India Congress 2017 brought together thought leaders, policy makers and key industry professionals at one platform which provided a solid platform to discuss and deliberate on SDN and NFV at length. We are overwhelmed to witness the participation from all the stakeholders of the telecom industry.'