Five Ways Cloud Computing Is Reforming Manufacturing
By Punit Thakkar, Director & CEO, Shivaami Cloud Services.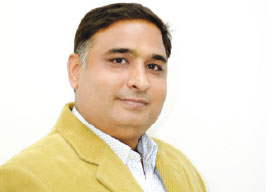 Manufacturing organizations are not shying away from embracing cloud computing. In fact, they find unique benefits from adopting this technology. Cloud has the potential to empower any business to function faster, smarter and in a more flexible manner. Manufacturing units in particular are increasingly becoming 'cloud-savvy' due to the many benefits that a cloud model offers.

There is tremendous pressure on manufacturers to improve productivity while keeping the cost low, and to speed up the manufacturing process. CIOs of manufacturers from various industries such as telecom, IT, automotive, healthcare, retail and chemical have started recognizing how cloud can reduce cost and speed up productivity. Studies indicate that traditional IT spends in the manufacturing sector is on the decline, and CXOs see more value in moving IT resources to the cloud.

"Manufacture need to have a speedy and responding ecosystem that can analyze loop holes vendor and inventory satus predicting product future and customer demand ."
Our recent conversations with some of the leading manufacturing firms tell us that they are driven towards cloud due to the accelerated time-to market, enhanced organizational flexibility and scalability, rapid resource provisioning, and lower cost of ownership. Manufacturers aiming to gain a winning edge are turning towards cloud and are open to move even the most critical apps to the cloud platform, due to the following reasons.

Reduced time to market: The way the manufacturers bring out and market their products is constantly evolving as the technology is advancing day by day. They are looking at launching better products in a much faster way. As a reason, manufacturers need to have a speedy and responding ecosystem that can analyze loopholes, vendor and inventory status, predicting product future and customer demand. Cloud allows these organizations the real-time ability to test the design for a product, understand the market and do its own research. Product co-creation and supply chain activities like taking orders, logistics and tracking delivery management become a lot more efficient with the introduction of cloud.
ERP gaining greater efficiencies: Manufacturers are increasingly relying on cloud-based ERP strategies because of the way it has been programmed and customized to monitor every operational need across geographical regions. This strategy aids manufacturers in gaining greater efficiencies in material planning, supplier management and reducing logistics costs.

Real-time Collaboration and knowledge sharing: Integration and knowledge sharing among suppliers become more effective with the use of cloud. Knowledge and information about supplier networks are now becoming more attainable for manufacturers. Real-time collaboration provides enhanced control over projects which leads to enhance productivity and improved timeliness. Manufacturing organizations are moving towards cloud-based vendor managed inventory.

Human Resource Planning becomes seamless: Cloud-based Human Resource Management (HRM) system has become a big boon for manufacturing enterprises. One HR system can now be used by different people based at multiple locations, combining HR functionalities such as talent acquisition management, payroll processing, tracking time, employee-employer relationship management and many more.

Real-time Tracking of Delivery: Cloud-based apps help manufacturers, customers and dispatchers by providing in-depth tracking information and up to-the-minute analytics. Further, it provides transparency and the ability to track orders live, track usage and costs with real-time visibility and greater financial control without investing heavily in IT infrastructure.