How FinTech Lending Platforms have Simplified the Access to Credit for the SME Sector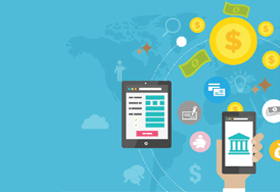 However, for long, the sector has been snubbed by the banks and formal institutions of finance. MSMEs lack of access to business financing has resulted in a credit gape of approximately INR 2.93 lakh crores. However, technology and digitisation of financial services is helping the MSME sector realise its true potential by capitalising on emerging growth opportunities and competing with larger corporations.
Access to affordable credit is critical for MSMEs to grow in the long-term or fulfil short-term working capital requirements. This is where technology-driven lending start-ups come in to bridge the credit supply gap for small and medium businesses and facilitate a seamless access to funds for growth and scaling up.
Despite its massive potential, MSMEs continue to be denied credit by traditional banks due to lack of documentation, ability to provide adequate collateral, and reliable credit history. But this scenario is changing with the rising adoption of technology and data analytics in the lending domain. Owing to the Aadhar database, GST registrations of SMEs and the
India digital stack, there is now a boom in consumer data. Fintech companies are leveraging this data boom to improve upon existing credit models with the power of analytics. Cutting-edge AI-driven algorithms take this data and process it to accurately determine the borrower's creditworthiness. As a result, it eliminates the tedious process of applying for a loan or dealing with a mountain of paper work, allowing businesses to receive the required funds in less than a week. Moreover, with an automated underwriting process and risk management, Fintech platforms have much lower operational costs, there by allowing them to pass on the benefits of these savings to borrowers in the form of lower interest rates.
Fintech lending platforms leverage AI and machine learning to facilitate the discovery of products best suited to the requirements of a particular enterprise
Fintech lending platforms leverage AI and machine learning to facilitate the discovery of products best suited to the requirements of a particular enterprise. MSMEs now have an easy access to unsecured loans for business growth, loans for upgrading machinery for production or developing logistical infrastructure. Through in-depth analysis of the available data, AI-driven algorithms assess the company's current stage of life-cycle, and recommend the ideal product for them. Furthermore, they can to suggest the enterprise much more accurately as to where it should channel the funds to be able to grow within a specific period of time.
The benefits of financial technology for SMEs, however, are not just limited to lending. Digital payment technologies have simplified the process of recording business transactions for SMEs with far more efficient and reliable methods of conducting transactions and reviewing their finances. With technologies like digital wallets, these businesses can now also purchase products and services, source raw materials, and sell to customers from across the country, all through the digital medium. In addition, with comprehensive digital payment and cash flow records, SMEs can apply for loans on Fintech platforms in an efficient, hassle free manner.
By implementing transactional history evaluation techniques, Fintech lenders are building customised credit offerings, while services like e-KYC and digital loan agreements have transformed borrowing into a seamless process for SMEs in the country. With large banks and formal institutions withholding the supply of credit in the market, technology driven lending is the only solution to help SMEs in the country sustain in this fluctuating economy and explore new markets to achieve long-term growth.