Setting the Blueprint for Digital India
By Arpan Bansal, Associate VP, Newgen Software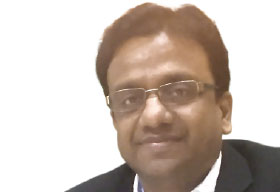 The Digital India initiative is set to change the face of Indian government and governance. The initiative aims to create a digitally empowered society by providing digital infrastructure to its citizens and connecting with them in the remotest of places. Connecting with 1.3 billion people across 29 states, 640 districts and several villages, leveraging existing infrastructure is a daunting task. And, to realize this vision it demands a highly collaborative environment across all the state offices. Departments at all levels are putting in humongous amount of efforts to enhance citizen-service delivery but, the challenge lies in managing existing silos and collaborating across departments. There is a need for a different paradigm to realize this vision of increased governance and reduced government.

Out lining the Design

To offer a truly digital government and citizen-centric governance, it needs to reflect in organization's processes and systems. For this, State Government departments have to ensure better communication with citizens, internal collaboration and strong service commitment. To achieve all of this and more, we introduce Government Enterprise Architecture (GEA). Simply put, an enterprise architecture is an underlined blueprint which leverages organization'scurrent IT capabilities to fulfill its current and future organizational needs and helps business realize its vision.

Consider a scenario, where a student dissatisfied with his board results files a case. To resolve this case, court or legal department would need to access records from education department. In the current state, low visibility, lack of collaboration and multiple manual hands-offs results in increased turnaround time, much to citizen's dissatisfaction. With a robust architecture across various departments, it eliminates questions like how to access records and whom to reach out to.

GEA consolidates the entire existing IT infrastructure and enhances collaboration across departments by bringing in various state departments under one roof. This comprehensive framework streamlines processes, information technology and people with the overall organizational strategy. The architecture supports Digital India initiative by:
Consolidating Existing IT Infrastructure - Eliminate information silos across departments with a unified architecture, leveraging and aligning existing IT infrastructure.

Facilitating Interoperability - Ensure seamless and faster service delivery through its extensive collaboration capabilities. The architecture allows interoperability across different departments/agencies and ensures smooth and secure flow of information.

Enhancing Citizen Service Delivery - Engage citizens with an improved service model. Deliver around-the-clock services to citizens through their preferred channel, leveraging easy integration capabilities and scalable architecture.
Reducing Redundancy - Gain operational efficiencies by reducing redundancies and manual hand-offs. With 360 degree visibility and transparency across processes eliminate repetition of work and view past case history for reference.
Blue print of a Digital Nation

The business architecture of a Government agency is a combination of multiple interactions across stakeholders such as Government and Citizens (G2C and C2G), Government and Businesses (G2B and B2G) and internal Government interactions (G2G). The Government Enterprise Architecture allows for -
Contextual Government to Citizen interactions
Accountable Government to Business transactions
Seamless Government to Government communications
​To achieve the above goals, the enterprise architecture needs to be backed by strong foundational elements of Business Process Management (BPM) and Enterprise Content Management (ECM). Leveraging BPM capabilities like flexible workflows, exception handling, easy integration and process re-engineering, the architecture can easily integrate with core/legacy applications and systems, and consolidate the existing capabilities. With rule-defined workflows it allows for streamlined G2G processes such as File/DAK management, note management, parliament query management and others. This addresses the pain point of long processing time and helps offer an accountable and efficient work environment.
ECM's capabilities to manage all government records even the ones dated back decades, it forms the core element for the Government Enterprise Architecture (GEA). The Digital India initiative resonates with paperless administration. ECM as the foundational element of the architecture allows for end-to-end document lifecycle management with capabilities for:
Long-Term Centralized Archival
Digitization of Historical Documents
Physical document management
Compliance with Open standards
Management of high volumes of documents
The robust architecture based on BPM and ECM platform would transform and streamline processes across multiple departments (Agriculture, Animal Husbandry, Education, Social Welfare and so on) of a particular State, enabling interoperability. This will foster an accountable and efficient governance and extend government's reach to citizen's doorsteps as citizens can access services through kiosks, internet portals, common Service Centers (CSC), Government Offices (such as Municipal Corporation) and affiliated offices (such as Post Office).

The key building blocks of an effective Government Enterprise Architecture (GEA) are:
Integration with multiple channels for anytime-anywhere request capture
Defined workflows leveraging intelligent Business Process Management
Robust Enterprise Content Management System
Common application for effective office administration
Core ERP Applications
Middleware Applications
A Government Enterprise Architecture (GEA) backed by BPM and ECM capabilities will play a major role in successfully making a nation truly digital. The key is to consolidate the existing IT infrastructure and eliminate process silos. With a robust Enterprise Architecture and the right BPM and ECM platform departments can ensure better governance, increased accountability and enhanced citizen services.